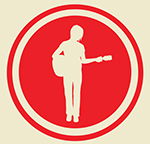 Erika Werry brings deeply personal, uncompromising and new perspectives to the age-old themes of life and love. The songs are short and fun, often with tongue-in-cheek lyrical humour and sometimes with devastatingly poignant lyrics on relationships.
A consummate performer, Erika sings and dances through her fast-paced sets. Her songs are delivered with her signature vocals, in a "... lovely... grainy alto", and the Alphabet delivers razor sharp accompaniment to her lyrical melodies.
---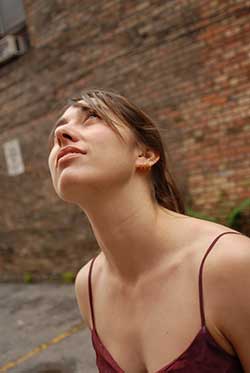 Erika has a background in classical and modern dance, with many dance performances to her name before she ever picked up a guitar to turn her poems into songs.
Erika Werry has released 4 albums of original music. Her highly regarded first two records, Nothing Clearer Comes (2004) and Time on our Hands (2006) received four and three-star reviews in Toronto NOW and Eye weekly magazines.
Her sophomore disc featured various guest players, including James Robertson (New Country Rehab), Bryden Baird (Blue Rodeo, Feist), and one of Canada's most in-demand session musicians, Christine Bougie.
Erika's latest release, Think yer so Smart, was recorded live at Blue Rodeo's studio in the summer of 2012. Featuring Ian Blurton (C'mon, Change of Heart), and Tim Vesely (Rheostatics).
Erika's band is called The Alphabet, consisting of drummer, accordion player and hauntingly beautiful backup singer Kate MacLean, double bassist Wes Neal, lead guitarists Mike Hopkins and Michael Tuyp, and keyboard and harmonica player Josh Cavan. Erika Werry is the band leader and songwriter, and plays both electric and acoustic guitars.
Erika also tours and performs as the Alphabet duet with guitarist Michael Tuyp. Her song material is inspired by travels and day-to-day experience, and through a love of classic French and English literature.
Her song writing continues to evolve; older songs compared with her newer material are so different in feel, yet are delivered with Erika's particular, unique and appealing sound. The current version of her band, The Alphabet, is a very cool mix of clean electric guitar techniques and tone, and creative, all-out originality. Although Erika labels the genre as "folk-rock" , hers truly is a genre-bending style. Without completely losing her audience in unknown territory, she is pushing the limits. She entertains while lending new light to old questions. Kids dance to her fast paced songs.
---
Contact
---
---
Quotes
---
"I dig Erika's grainy alto, her in-and-out-of-pespective songs, delivered with expression. An observant poet, a cliche distorter, a fearless traveller, a band leader - Miss Werry is all of the above..."
Mary Beth Carty, Penguin Eggs
"Without fuss, hype or fanfare, Erika Werry has made one of the years' best records - That voice! Those songs! That band! *That's* what I'm talkin' about. I played the hell out of this record last summer. Still do. Sometimes I even sing along. You gotta problem with that?"
Kevin Quain
...consistently impressive... [her] singing voice is quite lovely - a kind of perfectly imperfect semi-croak.."
Toronto's EYE Weekly
...Erika's "pleasantly hypnotic vocals and charming simplicity ring true [...] something to experience live"
Sean Ridgeley, St John's Telegram
"Erika Werry's songwriting, performance and personality mesh perfectly, both live and on cd."
CIUT Radio Director Ron Burd
"A lyricist & melody maker, an endearing presence, and that voice - something strong but still the water and the wind get through. And the sunlight. And the sadness."
Noah Zacharin
"Erika is a terrific singer/songwriter with a great backing band..."
Rancho Relaxo
---
Audio Samples
---
Think Yer so Smart • Erika Werry •
Nothing Clearer Comes • Time On Our Hands
Music Player

---
High Resolution Photographs
---
---
Posters
---